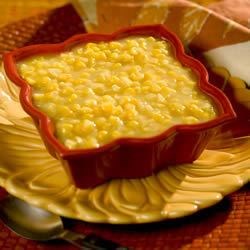 We celebrated Thanksgiving the Saturday after with J's family at his mom's house. His brother's wife made the best creamed corn which
prompted
me to find this
recipe
on - where else - All Recipes. This is not exactly her recipe but very very close. I can't wait to make this on Christmas. Very very good.
2 (20 ounce) packages frozen corn kernels, thawed
1 cup whipping cream *she used half and half*
1 cup milk
1 teaspoon salt
1/4 teaspoon
monosodium
glutamate (MSG, or Accent flavor enhancer) *she used season salt*
2 tablespoons sugar
white or cayenne pepper
2 tablespoons flour *she used
Bisquick
*
2 tablespoons butter, melted
Place corn kernels, whipping cream, milk, salt, flavor enhancer, sugar, and white or cayenne pepper in a large stockpot. Bring to a slow, low boil beginning on medium heat, stirring frequently. Simmer for 5 minutes on low heat.
Melt butter in the microwave, or in a small saucepan on low heat. Whisk in flour until smooth. Stir into the corn until well blended. Enjoy!