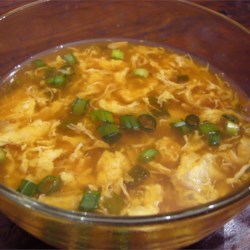 Source: All Recipes
Tonight my "
buddy
" and I were on our own for dinner. I have not been feeling so well so I was in the mood for some soup, but a light soup. I decided to make egg drop soup. And as my son put it "
mmmm
, this is the best!". I have to admit it was so simple but very tasty.
INGREDIENTS
4 cups chicken broth, divided
(I used two cups water with 2 chicken
bouillon cubes
and two cups Trader
Joe's
Chicken Broth)
1/8 teaspoon ground ginger (I left this out for tonight)
2 tablespoons chopped fresh chives
1/4 teaspoon salt
1 1/2 tablespoons cornstarch
2 eggs
1 egg yolk
*drop of sesame oil - this is not part of the original recipe*

DIRECTIONS
Reserve 3/4 cup of chicken broth, and pour the rest into a large saucepan. Stir the salt, ginger and chives into the saucepan, and bring to a rolling boil. In a cup or small bowl, stir together the remaining broth and cornstarch until smooth. Set aside.

In a small bowl, whisk the eggs and egg yolk together using a fork. Drizzle egg a little at a time from the fork into the boiling broth mixture. Egg should cook immediately. Once the eggs have been dropped, stir in the cornstarch mixture gradually until the soup is the desired consistency.