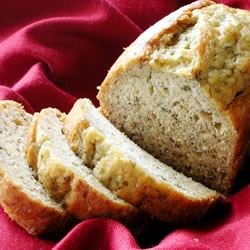 Source: All Recipes
I had two sad bananas that I needed to get rid of. I can't stand to just toss them - poor neglected nanners. The last recipe I made called for at least 5 bananas. That wasn't going to work so I found this one that called for three. I ended up halfing the recipe - not recommended but it turned out fine.
INGREDIENTS
1 1/2 cups all-purpose flour
1 teaspoon baking soda
1/2 teaspoon salt
1 cup white sugar
2 eggs, beaten
1/4 cup butter, melted
3 bananas, mashed
DIRECTIONS
Grease and flour two 7x3 inch loaf pans. Preheat oven to 350 degrees F (175 degrees C).
In one bowl, whisk together flour, soda, salt, and sugar. Mix in slightly beaten eggs, melted butter, and mashed bananas. Stir in nuts if desired. Pour into prepared pans.
Bake at 350 degrees F (175 degrees C) for 1 hour, or until a wooden toothpick inserted in the center comes out clean.